"Quoting like this on every article pisses me off"

~ People on Uncyclopedia

"A website... For ME? LOL WUT"

~ Oscar Wilde on Uncyclopedia
---
Uncyclopedia
is an unfunny and
unoriginal
website which tries to provide the viewers with a couple of chuckles, but fails hard with 'YO MOMMA' jokes which only
apppeal
to
12 year-olds
. The editors of Uncyclopedia have to be very careful with their bad language, since - let's face it; they're probably too afraid to cuss.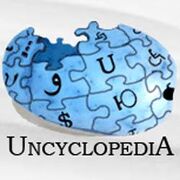 More on Uncyclopedia
Edit
Uncyclopedia acts like an eccentric site, who seemingly 'worship' Oscar Wilde - that dead Irish poet, with a passion. Whenever people call it unfunny, they mean it. Uncyclopedia, as mentioned above, is a site that would only appeal to 12 year-olds.
Ad blocker interference detected!
Wikia is a free-to-use site that makes money from advertising. We have a modified experience for viewers using ad blockers

Wikia is not accessible if you've made further modifications. Remove the custom ad blocker rule(s) and the page will load as expected.